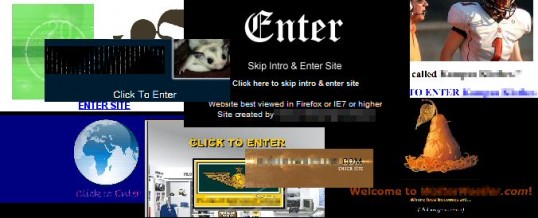 Flash is a technology that lets you create an artistic website with fades, dissolves and other effects. It is also used to create truly annoying websites where everything winks, blinks, dances, prances, fades and so on.
If you build your website so that it has an entry page based on Flash, it is common for such a page to do some kind of animation that the website owner thinks is worthy of an Academy Award, and when it is finished it will offer a "Click to Enter" button.
These introductory pages are a very bad idea for both SEO and visitors alike. Search engines see a totally empty page with no text to index except the words "Enter Here" or the like. That kills your SEO completely.
Visitors see the same thing- an empty page. Visitors do not come to your website to watch an animation; they want to know if your website can satisfy their needs, and they want to know it immediately.
They are already looking at it, and your flash intro them nothing of value. A full 25% of your potential visitors will have already left your website before they even notice the "Click to Enter" button. (Especially if you hide it until the intro ends!)
Consider this analogy:
Suppose you were walking down a street doing some shopping. You pass by stores that show their wares in their windows. Suddenly, you pass by one store with blacked-out windows that shows you nothing. It has an iron gate and a button with a sign above it that says "Click to Enter". What would you do? Why would you bother to click?
Entire websites can now be built with Flash. But, this is a terrible idea if you hope to be well ranked by search engines. Search engines are text-based. If you use Flash, they will probably see your website as a totally empty 1-page website with no content whatsoever. Do you think you will get a good ranking as a result of this?