Professional eCommerce Web Sites
We offer the most popular, professional eCommerce solution from Shopify. We set up your store and arrange for everything you need:
Shopify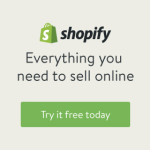 We are an authorized partner of Shopify, which presently has over 150,000 stores with sales of $7 billion.
Shopify handles all the hassles of ecommerce, and is a perfect solution for beginners and experts alike.
You can manage your entire inventory with Shopify, track stock counts, and automatically stop selling products when inventory runs out.
You can have multiple images for your products, so you can show off your products from all angles. There's no limit to the number or type of products you can sell in your online store.
Some features of your store:
a comprehensive website builder and a full-featured blog
70+ international payment gateways
Unlimited bandwidth and products
Global tax and currency support
Search engine optimized
Gift cards and discount codes
and more…
Key Features
Shopify provides you with a variety of tools to help you set up and run your business. Depending on the plan that you choose, you can find everything you need to showcase your products online, to process payments, and to make your store work for you. Shopify offers:
Free and paid themes from the Shopify Theme Store to make your store stand out and look great
Free and paid apps from the Shopify App Store to expand on the existing functionality of your store
Shopify's own payment gateway to accept credit card payments
Growth opportunities with Shopify's various sales channels as well an enterprise plan for merchants who are selling in high volume and may be feeling the effects of accumulating transaction fees
A Shopify blog that has guides and articles about running your store and connecting with your customers
Experts all around the world that can help you set up, design, and market your store
A dedicated support team available 24/7 to answer your questions no matter what Shopify plan you're on.
Let's get started on your new store. We'll be happy to answer any questions you have with no cost or obligation.