Professional Websites for Small Businesses
We design websites for all types of small businesses. We're fast, professional, and inexpensive. With over 30 years of experience, we're here to deliver the best website for your business.

Our designs are based on WordPress– used by 60 million websites. We use the highest quality themes and customize them for your business.
---
Responsive Designs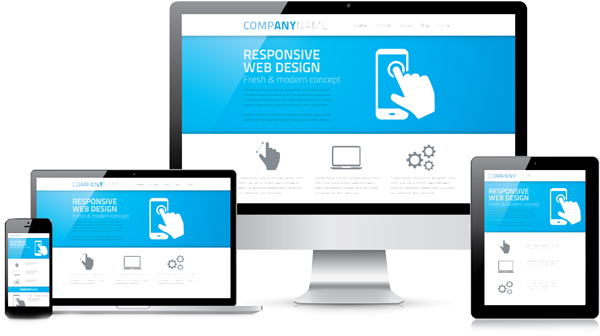 All of our website designs are fully responsive. That means that they look beautiful on all devices- mobile, tablets and desktop PCs. Your content appears in an easily readable format, no matter what device they are using to view your site.
This website is an example of a responsive design. It's also very fast. Try viewing it on various devices. Your website will respond perfectly just as this one does!
View our small business website examples to see the variety of designs we offer.

---
---
Getting Started is Easy

We make it easy for you to have an attractive, effective website for your business. We take care of the design and all technical details. You write the text for the pages on your site, because you know your business best. If you have pictures, we can use them. Otherwise, we can provide stock photography where suitable to give your site visual appeal.
It's as easy as 1 – 2 – 3. Here's how it works:
| | |
| --- | --- |
| | Contact Us for a free phone consultation. We discuss the style, general color scheme, how many pages your website will have, the pictures, and other details. |
| | You make an initial payment. Then, based on your preferences, we create a mockup of your home page. This is uploaded to the Internet so that you can view it. |
| | After you approve the mockup, we complete all of the remaining pages. You review the fully functioning website. We make minor changes if necessary, and the website goes live. The entire process can usually be completed in just a few days! |
---
What Will My Website Cost?

If you've done your homework, you know that the going rate in 2021 to build a modern, professional small business website is typically $4,000-$10,000. It all boils down to the size and complexity of the site, and how much work is involved.
Our rates are less than half of that. Our fee varies according to the features and the complexity of the site. We discuss your requirements with you and then let you know how much it will cost. E-commerce is not included.
A standard website includes a Home page, an About Us page, a Services page and a Contact Us page. We advise against single page websites. They tend to be cluttered, load slowly, and are terrible for SEO. A standard website makes a better impression on visitors and gives Google more search terms to rank.
The quality of your website design reflects directly on your business image. It is essential that your website look professional, fresh and contemporary. Our themes are of the highest quality.
Remember, the purpose of a website is to bring in new business and so it should pay for itself. The cost may be deductible for tax purposes as an ordinary and necessary business expense.

You pay us nothing after your new web design is finished unless you want us to make changes. An optional maintenance package is available.
---
What Features Do I Get?
Let's get started! Contact Us for a free no obligation consultation. We will be happy to answer any questions.